Shields are created using wood log, shield rim, shield boss, hand enarmes and wrist enarmes to sell in Blacksmith's Shop in My Little Blacksmith Shop.
Variants
Edit
There are 7 types of the shields:
Heater shield 1
Heater shield 2
Round shield 1
Heater shield 3
Heater shield 4
Heater shield 5
Tower shield 1
Each shield type has it's own design, but doesn't differ from creation point of view, all of them require the same materials to be crafted.
Note:
Do observe that the 8th item you can craft at the woodworking bench is a crate and not a shield
Assembly
Edit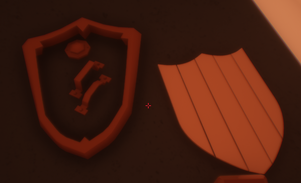 Each shield requires:
One wood shield backing (1 Wooden log)
One shield rim (2 ingots)
One shield boss (1 ingot)
One hand enarmes (1 ingot)
One wrist enarmes (1 ingot)
Total: 1 wooden log & 5 ingots of the same metal
In order to craft each part requires the Woodworking Bench for the shield backing and the Anvil for the remaining parts. All of the metal components to the shield must be the same metal or they will not attach to the shield. All metal parts are under the "Shield" category in the Radial Menu.
Alpha 0.0.9e:
Fixed - Customers will now leave after purchasing a shield
Bug - Regardless of log type shield base will sell for the same price
Alpha 0.0.9:
Fixed - Removed an issue preventing shields boss and enarmes from rotating.
Fixed - Shields will inherit log colors
Added - proper shield collision and disassembling.reassembly.
Customer will now order Shields along with weapons.
Adjustment - to the shield display on the woodcutting table.
Adjustment - shield physics angular and linear dampening
Alpha 0.0.73:
Added- Shield boards(Sandbox).